Ladylike; well-mannered and demure. The only sensible one on the floor.
Animal: Horse
Height: 5'9"
Weight: 130
Age: 18
Quote: "My goodness, what is going on here?"
Major: Chemistry
Room: 304 (roommate to Lisa)
Cindy is definitely the most level-headed member of the cast. Elegant, proper, and ladylike, she seems almost out of place in the cast. She never loses her temper, never engages in shouting matches, and always comes away from the latest wackiness competely unscathed.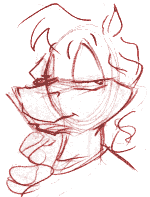 However, these traits do make her an excellent moderating force amongst the boisterousness of everyone else--a stabilizing, calming factor. Her mere presence seems to make everyone behave a little better. She isn't all vanilla and poetry, however, so do not make the mistake of understimating her. She has a sharp mind fine-tuned for sciences, and a strict exercise regimen that makes her much stronger than she looks. Most guys think they know what she needs, are are quite wrong. She knows what she wants, but just has too much class to reach for it. You can probably guess that she and Tony will be mutually interested in each other but won't do anything about it for quite awhile.